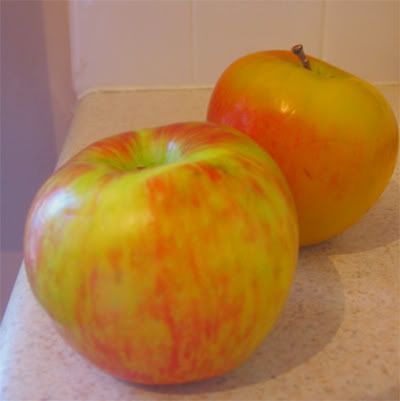 Honey Crisp Apple (front) & Jazz Apple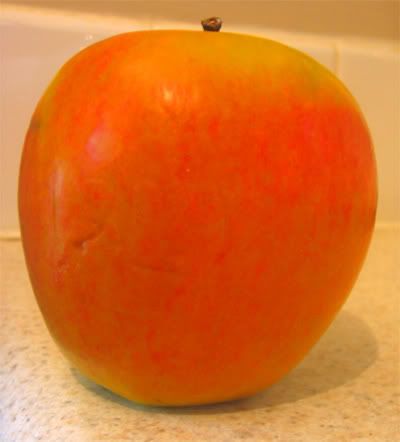 Gorgeous Jazz Apple
Thanks to a poster on Woof, I tried some new varieties of apples this year. Scrumdillyumptious, indeed.
The boy made chili last night (and I helped!)...1/4 cup chopped onion + 3.5 lbs cooked ground beef +1 can tomato sauce + 1 large can of peeled tomatoes + organic tomato juice + cumin, salt, pepper, paprika, chili powder, garlic powder & sage + 2 cans of dark red kidney beans slowly simmered for 1.5 hrs, stirring frequently =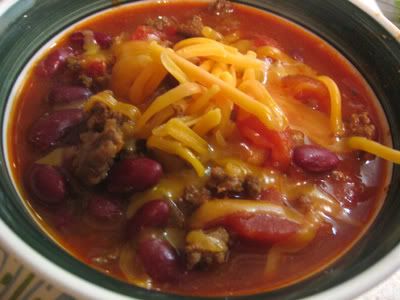 YUMMY warmness for my tummy! sprinkled w/ sharp cheddar of course...

There was also cornbread made by moi. Jiffy mix with a little bit of sugar added...the sugar makes it taste just like sweet corn on the cob *drool*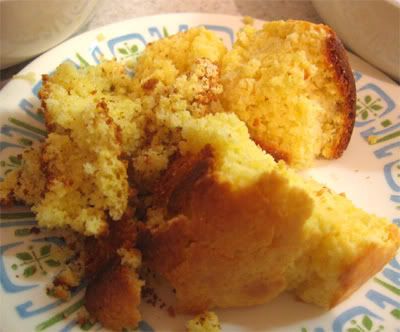 Do I really have to go on about why Fall is my favorite season?? As summer ends, I can literally feel my taste buds transforming...I start to have a taste for fresh apples, anything with pumpkin or sweet potato in it, warm soups and chili, cornbread stuffing, thick gravies, dense pound cake, and fruity tarts. I love how rich the foods of the season are!