Why oh why did it have to rain ALL week??


Cooper-Young Festival is this weekend and they're predicting rain. There is a rain date but it's forecast to rain on the rain date too! So I'm not sure what they are going to do but I realllly want to get out there and buy some cute handmade stuff. I love going to festivals like this and I hope the weather doesn't ruin it for me, argh! I need a pronto pup and cute handmade stuff damnit!!
In other news, IT'S FRIDAY! Hallelujah, I am ready for the weekend!! My weekend is going to be focused on organizing my craft room (I know, I've said that every weekend for the past two months lol) but this time I mean it.
Miss Indie
posted some workspace inspiration on her blog and I'm really motivated to make my craft room functional, cute, and tranquil. I want it to be a place where I can really just relax and be creative. Right now, it's so messy and junky that I hardly want to be in there!
In order to really get my act together, I am going to shame myself by putting up before pictures soon. Promise not to judge me too hard when you see them, LOL! It's B-A-D in here. Hopefully it won't take us to long to get the cleaning and rearranging done so that I can start on the decor (that's REAL fun of a room makeover :).
Well, I've got to get back to work now. Enjoy your weekend and try to do something fun! (If it's not raining where
you
are, bleh!) I'll leave you with some photos of my most favorite work spaces. Uber inspiring!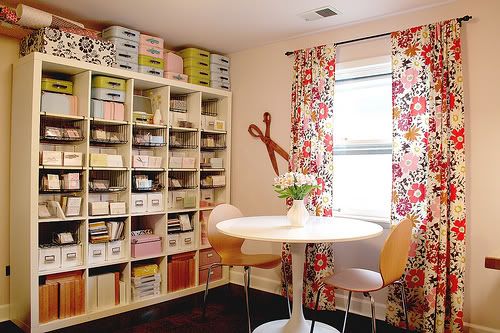 top to bottom // 1.
amanda's scrapbook room
(she's my organizational hero, really!) 2.
mdstudio's peg board
(what a great space saver!) 3.
nicole balch's
studio (i just love it!)