After seeing
this
picture on
GraphXGrrl's blog
, I think I want to start collecting My Little Ponies! I used to love them when I was little! They were always so pretty and sparkly! I've been surfing the web for the last half hour or so looking a all the cute toys and accessories out there. I stumbled upon
Jupiterlily's LiveJournal
and she has an AWESOME mlp collection! She styles their hair and everything, hehe. Here are some of her super cute ponies...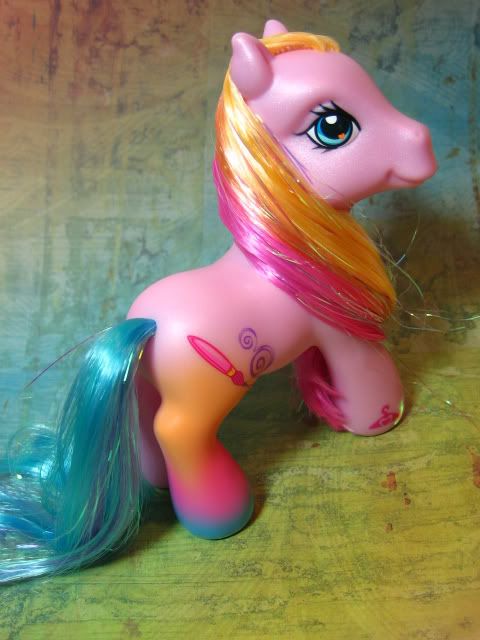 Toola Roola (left) is going to be my first purchase I think. Her cutie mark* is a paint brush!! In her bio it says she likes to be creative and make crafts :) That's my kind of pony! (Plus she has awesome hair). I also lurveeeeee the unicorns with the ringlets too! So prettttttyyy. *definitely adding all these to the Christmas list* I think I am going to drive the boy crazy, haha. He just looks at me and shakes his head as I
oooh
and
aaahh
over all the ponies, LOL.
Do any 80's babies feel me on this one??

(or were you into Rainbow Brite?? I loved her shamelessly too. No wonder I'm so into color! Care Bears, Barbie, Strawberry Shortcake...loved 'em all!)

*cutie mark (for those who don't know) = their sidebutt marking. lol ;)